Position: Home > Product > VETERINARY INSTRUMENT > Automatic continuous syringe
Product Description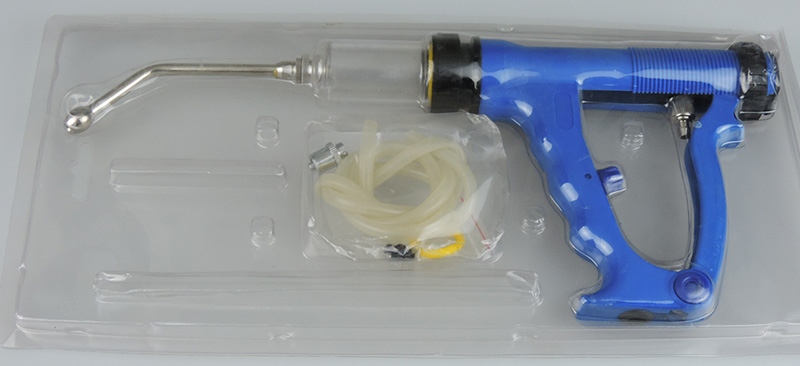 Continuous drenching gun for cattle sheep goats

Continuous drenching gun for animal are often used to administer injections, insert intravenous drugs into the bloodstream, apply compounds such as glue or lubricant , and measure liquids.
Principle:
A syringe is a simple pump consisting of a plunger that fits tightly in a tube. The plunger can be pulled and pushed along inside a cylindrical tube (called a barrel), allowing the syringe to take in and expel a liquid or gas through an orifice at the open end of the tube. The open end of the syringe may be fitted with a hypodermic needle, a nozzle, or tubing to help direct the flow into and out of the barrel.
Technical Parameters
| | | | | |
| --- | --- | --- | --- | --- |
| Name | Drenching gun 10ml | Drenching gun 20ml | Drenching gun 30ml | Drenching gun 50ml |
| Model | YL6722-10 | YL6722-20 | YL6722-30 | YL6722-50 |
| Capacity | 10ml | 20ml | 30ml | 50ml |
| Feature | large capacity | large capacity | large capacity | large capacity |
| Material | Plastic, stainless steel | Plastic, stainless steel | Plastic, stainless steel | Plastic, stainless steel |
| Dosing range | 0.5-10ml | 1-20ml | 1-30ml | 5-50ml |
| Application | Animal Drencher | Animal Drencher | Animal Drencher | Animal Drencher |

Please fill in your procurement needs and contact information