Position: Home > Product > PIG FARMING EQUIPMENT > Pig nipple drinker
Product Description

Pig drinker waterer nipple drinker
Pig drinker waterer nipple drinker consists of valve body, valve plug, sealing ring, return spring, corking, sieve, etc. The valve body and valve plug are made of brass and stainless steel, the return spring and corking are made of stainless steel, and the sieve is made of engineering plastics. The overall structure are simple and corrosion-resistant.
The Working Process of Pig drinker waterer nipple drinker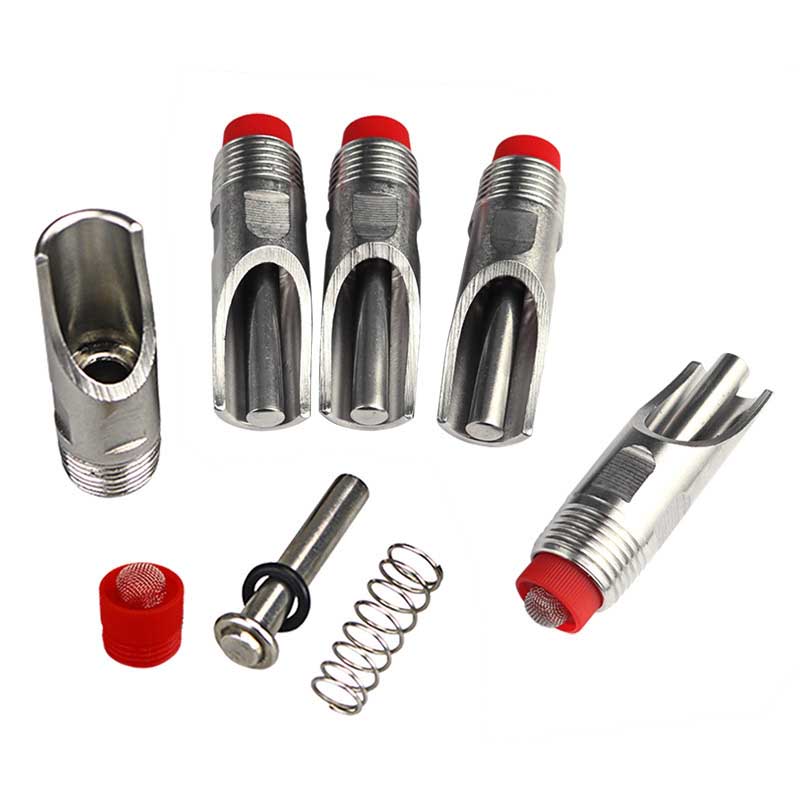 Pig drinker waterer nipple drinker

When pig wishes to drink, they hold the drinker in its mouth and bite the valve rod to let the water go through the gap of the valve plug and sealing ring. When pig stops biting, the return spring will haul back the valve rod, and the gap is sealed again to stop the water flowing. This kind of drinker has good sealed performance and slow water flowing, convenient for pig to drink.
Pig drinker waterer nipple drinker Application

There're two kinds of duck-billed drinker, the small one with flow of 2-3L/min, and the big one with flow of 3-4L/min. The small one is suit for piglet, and the big one is suit for fattening pig and adult pig.
Pig drinker waterer nipple drinker Installation
The angle of installation is 45º or horizontal, and the terrain clearance depends on pig's weight. The drinker should be installed in defecation area, which is away from pig's resting area. The pig drinker needs to be checked regularly, clean the dirties, adjust and strength the screws. The component should be changed timely if there's any malfunction.
Technical Parameters
| | |
| --- | --- |
| Name | Pig drinker waterer nipple drinker |
| size | 7.6*2.1cm |
| Material | stainless steel |
| application | Pig ,Swine |
| Weight | 105g |
| MOQ | 500PCS |

Please fill in your procurement needs and contact information