Position: Home > Product > CHICKEN BIRDS FARMING EQUIPMENT > Chicken shed cooling equipment
Product Description
Window ventilation system adopts mechanical ventilation according to the principles of mechanics;Suction inlet design, no need to open the window to discharge polluted air and inlet fresh air, exchange the indoor and outdoor air, keep high quality indoor air.
Window ventilation system Features and parameters:
Dimensions: W600mm*H320mm,160mm thick
★ Made of high quality engineering plastics, high durability, aging resistance;
★ Closed tightly, easy to open (108 °opening angle), outside inlet with anti-bird nets;
★ Fill in the thick of 20mm polystyrene insulation board;
★ cheap for standardized animal building.
Window ventilation system control device:
Window ventilation system Automatic control: According to the pre-set pressure difference between the house inside and outside, the motor control to open the air intake throttle,achieve the pressure differential requirements.
Manual control: The operator observe the negative pressure tables in the house, manually operate winches, until it reaches the set value of the pressure gauge, or control empirically.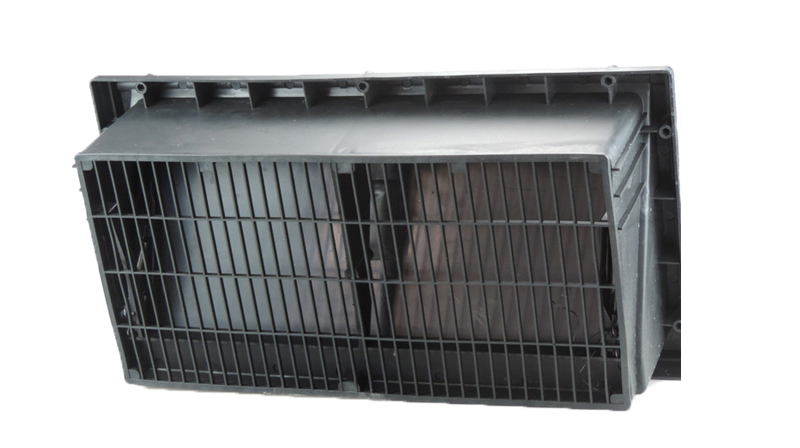 Window ventilation system
Window ventilation systeminstallation:
The walls for installing the small windows must be guaranteed at the same plane. The structure must be the one can use for fixing expansion bolt,not hollow brick structure beneath the window within 15cm height.In order to prevent water intrusion,window cave inside must be higher than the outside.
Product Parameters
| | |
| --- | --- |
| Name | Window ventilation system |
| Model | YL7304 |
| Size | 600*320*160mm |
| Material | ABS plastic material |
| Application | poultry chicken house, greenhouse etc |
| Usage | air inlet ventilation |
| Color | black |
| max ventilation flow | 2000~8000m^3/h |

Please fill in your procurement needs and contact information