Position: Home > Product > CHICKEN BIRDS FARMING EQUIPMENT > Chicken shed cooling equipment
Product Description
Evaporative cooler pads is a special paper honeycomb structure material. Its working principle is "water evaporation absorbs heat," the natural physical phenomenon. Water flow from the top to down under gravity,formed a water film on the corrugated fiber surface. When the air flow through the pad, the water in the film will evaporate and absorb heat from the air, reduce the air temperature, achieve the purpose of cooling.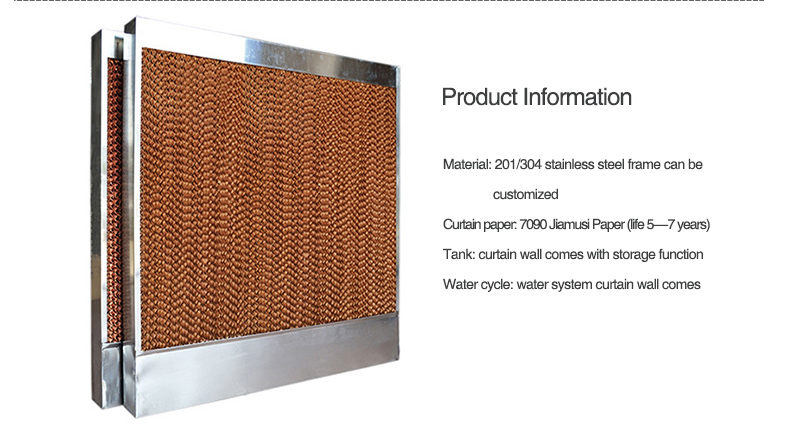 Evaporative cooler pads
1. Adopting new materials and space cross-linking technology, with high water absorption rate, mildew resistant, corrosion resistance and long service life.
2. Large evaporate surface area, cooling efficiency more than 80%.
3. Evaporative cooler pads Containing surfactants, natural water absorption, high diffusion speed, good performance and long lasting. A drop of water needs 4 to 5 seconds to finish the proliferation of Natural highly absorbent 60 ~ 70mm / 5 minutes; 200mm / 1.5h, fully meet international industry standards.
4. Product does not contain phenol prone, no harm to skin. Non-toxic, safe, energy conservation, environmental protection.
Product Parameters
| | |
| --- | --- |
| Name | Evaporative cooler pads |
| Model | YL7321 |
| Type | 7090 cooling pad |
| Material frame | aluminium alloy, galvanized, stainless steel |
| Length | customized |
| Thickness | 10cm/15cm |
| Mounting | wall/window mount |
| Application | poultry chicken farm, greenhouse etc |

Please fill in your procurement needs and contact information