Position: Home > Product > CHICKEN BIRDS FARMING EQUIPMENT > Chicken nipple drinker
Product Description
1. Chicken poultry drinking watering cups nipple drinker is 360° water outlet & High sensitivity . Chicken can drink water from every side of the drinker . Once touching the steel clip, water will flow immediately and smoothly.

2.Chicken poultry drinking watering cups nipple drinker Save water and feeder:clean sanitation, save water, save feed, keep dry chicken manure, without washing, labor saving, improving feed reward, improve the level of farm management advantages.

3.Reduce disease:. .,because the nipple drinker pipeline system sealing performance is good, water is not directly exposed to the hen house, avoid dust and pathogenic bacteria in the water, also avoid chicken cross infection caused by drinking water, improve the survival rate of chickens. It is advantageous to the chickens and epidemic prevention to reduce the spread of disease.

4.Reduce labor intensity:use nipple drinker can save artificial rinse tank work, also facilitate the artificial feeding and improve the labor productivity.

5. Low water pressure, flow sciences, high practicality, precision CNC manufacturing. 10-150 ml/min (3 kpa pressure or 30 cm high pressure), and it can be multiplied increases with the increasing of water flow. It also has excellent sealing performance (and tiny open force has a small change).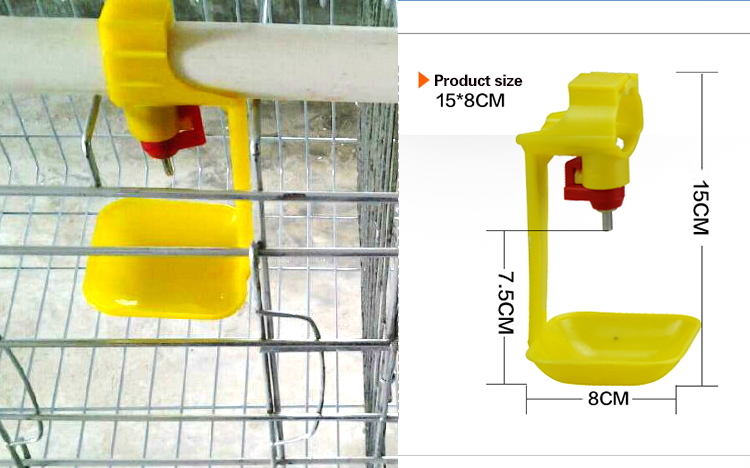 Chicken poultry drinking watering cups nipple drinker

Product Parameters
| | |
| --- | --- |
| Name | Chicken poultry drinking watering cups nipple drinker |
| Model | YL5303 |
| Size | 15*8cm |
| Weight | 30g |
| Connected Pipe | 3/4'' |
| Capacity | 10-15 chickens |
| Material | ABS |
| Application | chicken poultry farm |

Please fill in your procurement needs and contact information