Position: Home > Product > CHICKEN BIRDS FARMING EQUIPMENT > Chicken feeder
Product Description
automatic chicken feeder system are widely used in broilers, layers, ducks, gooses etc Main automatic chicken feeder systemis a complete set of automatic feeding system, including a material conveying pipe,silo, auger, drive motor and a material level sensor. Main Feed line is mainly used to deliver feed from silo to the hopper in the feeding pan system .There is one feed sensor at the end of main feed line, which can control the drive motor on and off to realize automatically feeding.
automatic chicken feeder system
1, Silo type and ground hopper type;
2, Galvanized steel or fiberglass silo;
3, The conveying system is running smoothly. It can be quickly delivered to each feed trays and ensure adequate feed;
4, Silos volume can be specifically designed based on the number of chickens ( feed weight 0.65t /CBM ) ;
5, Automatic control box is equipped with imported material level sensor, greatly improving the conveying accuracy;
6, The height of trays could be adjusted according to chicken age, easy to remove and clean.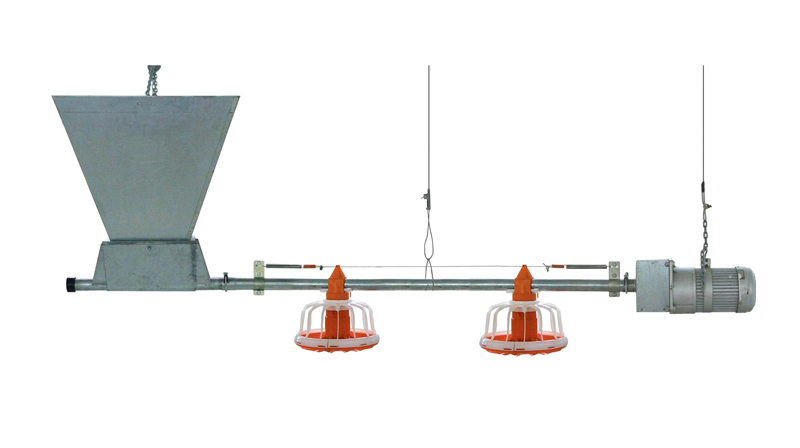 Automatic chicken feeder system
Product Parameters
| | |
| --- | --- |
| Item name | Automatic chicken feeder system |
| Motor power | 220V or 380V 0.75kw |
| Material of pipe | galvanized steel pipe |
| Diameter of pipe | 45mm |
| Capacity of feeding pan | 40-50 chickens |
| Feeding line interval | 3m |
| Feeding pan interval | 0.75m |
| Application | chicken, brolier, duck, goose etc |

Please fill in your procurement needs and contact information