Position: Home > Product > CATTLE FARMING EQUIPMENT > Cattle hoof trimmer
Product Description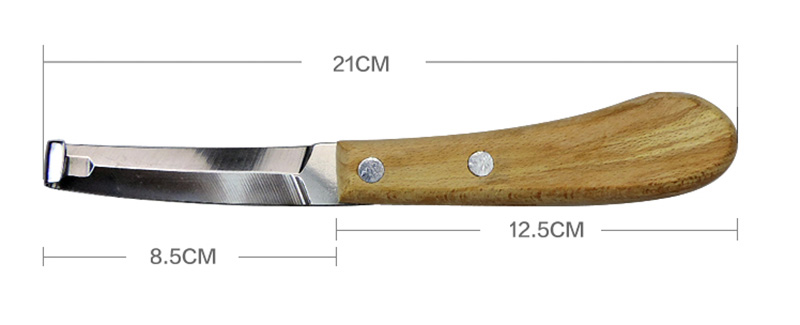 Horse hoof trimming tools
Horse hoof trimming tools Material:

Solid wood handle, ergonomic design.
Stainless steel blade, high hardness and toughness, corrosion resistance, wear resistance.Features:

Horse hoof trimming tools Features:

Excellent quality hoof knives are made of high quality alloy steel, treated to reduce and prevent corrosion.

Hardwood handle is securely riveted to the blade.

These knives have an extra-fine tip, ideal for exploration of holes in the hoof without creating a major excavation.

Right hand and left hand separate operation, accurately look the hoofed shape, prevent over-cutting, forepaw 7.5-8.5 cm , hind toe 8-9 cm , hoof bottom thickness of 5-7 cm.

Technical Parameters
| | |
| --- | --- |
| Name | horse hoof trimming tools |
| Model | YL 4409 |
| Usage | Cattle, horse, livestock hoof cutter trimmer |
| Material | Stainless steel blade, Wood handle |
| Size | L 21cm * Blade L 8.5cm |
| Weight | 80g |

Please fill in your procurement needs and contact information