Position: Home > Product > CHICKEN BIRDS FARMING EQUIPMENT > Chicken cage
Product Description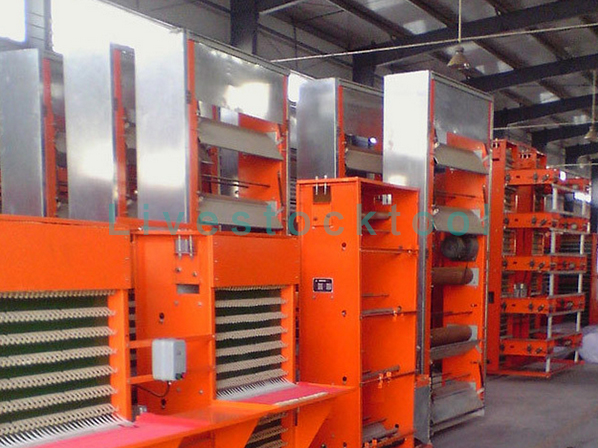 Egg collection
The egg collection is designed with advanced technology and reasonable structure.Egg belts convey the eggs to the front of the cage.Then the eggs are transferred to a vertical egg elevator.Egg guider in the front of each tier to guide the eggs to different place of the elevator.No collision will occur.
Egg collection installation and commissioning of major components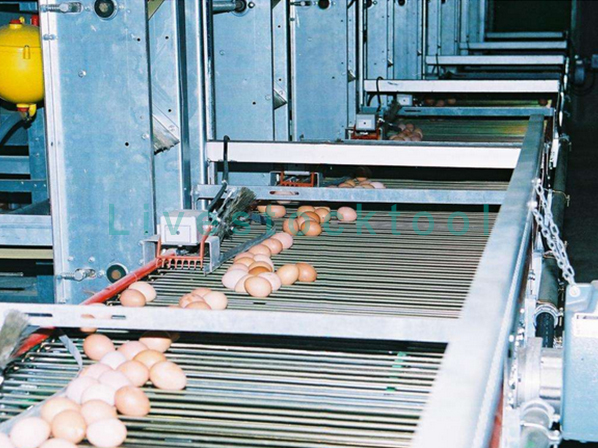 Egg collection
1. The chicken house must be hardened, the ground should be flat, there should be no bumps, and the slope control should not exceed 2 degrees above and below the deviation.
2. The cage is placed straight. By adjusting the foot cup, the deviation between the two cages should not exceed 0.5 mm, and the distance between the two legs must not exceed 0.5 mm.
3. The mainframe shall be perpendicular to the direction of the cage and fixed with the center of the cage. The head, tailstock and the ground shall be firmly fixed and shall not be loosened.
4. Install the quail egg band and check whether the hen egg band and the egg tray on the bottom of the cage fit together.
5. Install the support card and install it one meter at a time. In the front of the tail wheel, you must reverse a support card to prevent the eggs from falling and reduce the broken egg rate.
6. The professional electrician installs the line and control line and fixes it firmly.
7. The controller must contain a leakage protection device.
8. The trial run by a professional on the control panel in a jog mode should be supported by a number of people, whether scratching, stuck, or skewed in the device. 9. If you find a problem, find out the cause and solve it in time. Turn on the system when it is confirmed to be correct.
9. If the egg is running smoothly, the quail egg is even and there is no much noise (less than 40 decibels), and there is not much jitter. That is qualified.
Egg collection application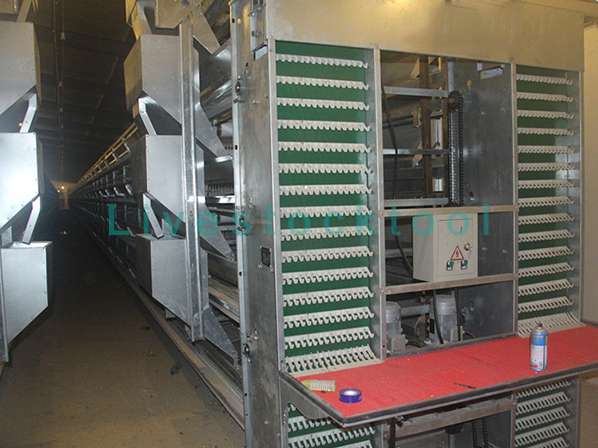 Egg collection
1) Working for large-scale and medium-sized farm, together with A type layer, broiler, rearing cage equipment
2) Stable performance of egg collection system can reduce damage to eggs.
3) High efficiency can save labor cost.
4) Egg can be transported to outside of poultry house directly so as to prevent the contact of workers with birds
Egg collection features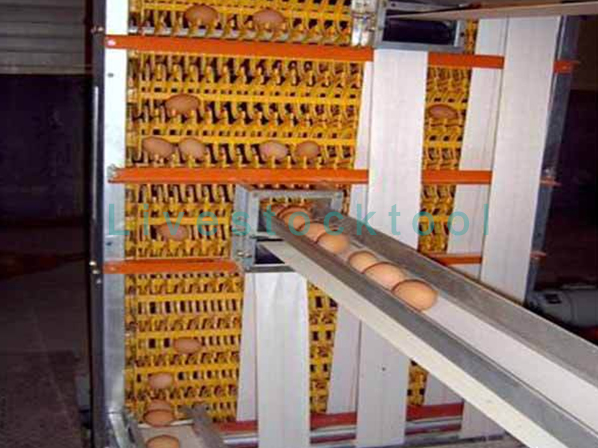 Egg collection
1. It is suitable for large, medium and small farms, and can be customized according to user requirements;
2.Has the characteristics of scientific, mechanized, automated, intensive, electrified;
3. Greatly improve the degree of automation, improve efficiency and save labor;
4. Low noise: reduce the impact of noise on chickens, increase egg production rate;
5. Smooth operation and increase production efficiency;
6. Reduce the rate of broken eggs, increase efficiency;
7. Simple operation, save manpower;
8. Wear, long service life.
Product Parameters
| | |
| --- | --- |
| Product Name | egg collection |
| SourceType | AC,3-PhaseSource |
| RatedVoltage | 380V |
| RatedPower | 0.75~3.0KW |
| Egg collection ability | 3000PIECES/HOUR |

Please fill in your procurement needs and contact information